These lucky dogs have found their forever families.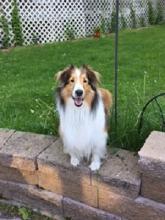 Maple is very excited to join a Sheltie-experienced forever family that includes two young boys, two Sheltie siblings, two feline siblings and chickens! Maple will be able to play with the Sheltie siblings and the chickens in a very nice fenced yard, and chase frisbees and tennis balls with her human brothers. Maple's extended family includes Sheltie lovers too, so get-togethers should be lots of fun! Adopted 4/17/16.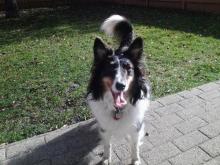 After 2 years in foster care, Allie selected the perfect family to adopt her! These pawsome people have loved several Shelties previous, and they have lots of time to love Allie and to play with her. There are no little humans or other pets, and Allie is very happy to not have to share any of the wonderful attention that they are lavishing on her! They have a great couch that Allie is sharing with them, and a secure fenced backyard for all of Allie's favorite fetch and Frisbee games. Adopted 4/15/16. See more Allie pix at http://youtu.be//psBCPMMmjB1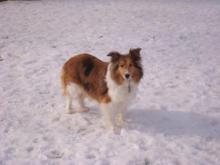 Sweet little Dori is so happy to have found her forever home with loving people who understand and who are committed to the needs and safety of a shy Sheltie. MNSR alum Doolittle quickly stepped into big brother mode to show Dori the ropes. Her family reports that Dori is coming out of her shy shell at least two steps a day and that she is fitting in like she's lived with them for a long time. They are getting to know the silly side of their little princess! Adopted 3/4/16.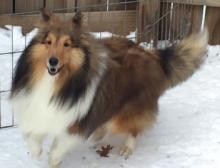 All Cooper ever wanted was a human to love and another Sheltie to play with. He got his wish when he was adopted by a great couple who are also adoptive parents to MNSR Rudy. Cooper and Rudy have a super nice fenced yard to run and play in, a dad who loves to build snow racetracks for them in the winter months, and super comfy spots on the couch to relax after all their exercise. Adopted 2/15/16.
Pages