These lucky dogs have found their forever families.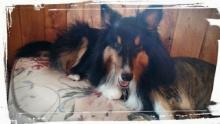 Rudy spent just a few weeks in foster homes before finding his forever home with a couple that are ready to spoil this energetic young boy. Rudy has a great personality and likes everyone he meets. He is making himself right at home and is already relaxing on the couch with dad, and looking forward to playing with the all new toys bought especially for him. Adopted 10/6/15.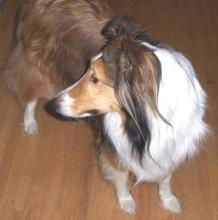 Mandy has a wonderful new family with two teenage girls who love spending time with her, playing and giving her lots of attention. She has her place on the sofa between the girls when the family spends time in the great room together. This sensitive Sheltie has bonded well with her family and even seems to know when one of them needs her to give them some extra attention. Adopted 9/22/15.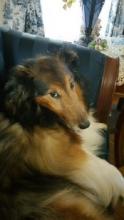 After spending a little time exploring her new home and yard, Menolly is now happily settled into her forever home with a mom who will give this sweet girl plenty of well-deserved love and attention. Sounds like Menolly will be giving her new mom lots of love and attention as well - Menolly woke her with doggie kisses the first morning! This special Sheltie who loves people has found her perfect home. Adopted 9/19/15.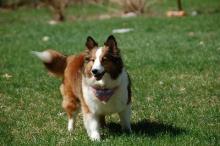 Tilly has finally found a home where she will be treated like the princess she always wanted to be. In her forever home, she will be able to sit on her deck overlooking beautiful gardens in her kindgom below. She'll likely spend time supervising her new Mom and Dad as they work in the gardens as well. Tilly has a feline 'sister', but Tilly will be the one and only dog in the family, which means lots of human attention for her, and that's what Tilly wants most of all! Adopted 8/21/15.
Pages