These lucky dogs have found their forever families.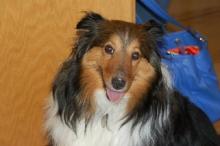 Cute Sadie is happy to join a forever family who has lots of time to spend playing and snuggling with her! Sadie's new family has lots of Sheltie experience, and previously gave a loving forever home to another Sheltie in need. Adopted 6/1/15.  Aee more of Sadie's (formerly Foxy) photos at: https://youtu.be/hNEOz25XFr8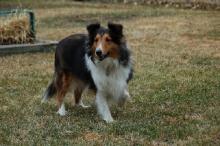 Bailey's favorite thing to do is play ball, and she was chasing the ball within minutes of arriving at her new home! That was just indoor practice before going out to explore and chase the ball in her huge fenced backyard. Bailey's new mom loves to go on walks with other neighbors and their dogs too, and there will be no end to the fun and exercise. This couple waited a long time for Bailey and are thrilled to give her a home where she will get lots of attention, exercise and love. Adopted 4/29/15.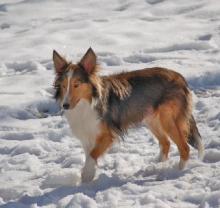 Katie (was Heidi) has had quite a journey since coming to MNSR on one of the coldest days of 2015. Despite having puppies 12 days after her arrival and making numerous trips to the vet, this Sheltie - who is a pup herself - was always happy and never stopped wagging her tail in her foster home. Now Katie gets to welcome Spring with her adoptive Mom and Dad and Sheltie brother, Mac. They have all been waiting several weeks for Katie to finally come home to them. Katie now has a forever family of her own where we are sure that her little tail will continue to wag. Adopted 3/20/15.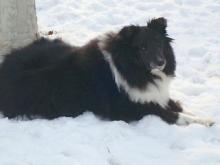 Our beautiful, gentle Maisie has found her forever home with a gentle adopter and we think these two are made for each other. Maisie may have spent much of her previous life outdoors, but she's now learned how nice a sofa is, and especially when her new mom is sitting there with her! Now that the weather is turning nice, Maisie and Mom will be able to get outside for some exercise too. Way to go Maisie! Adopted 3/14/15.
Pages