These lucky dogs have found their forever families.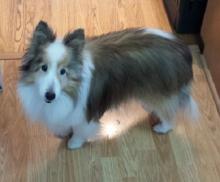 Little Lassie (was Sassy) is in her forever home with a past adopter of MNSR Sophie (Rainbow Bridge). This kind lady found that it was just too hard to not have a Sheltie in her home and life, and when she saw Lassie on our website she knew she had to meet her. Lassie will be the one and only 4-legged family member in her new home, and she's sure to enjoy plenty of love and pampering from her new mom. Adopted 8/14/15.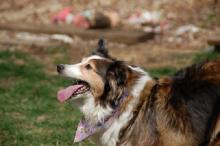 Tessa is so fortunate to have found a forever family who love to adopt MNSR Shelties! She joins MNSR alum Mandy and she is the 5th Sheltie this family has welcomed into their lives. Tessa is a people-loving Sheltie, and she's going to have plenty of attention from her new family, a lot of it will come while Tessa and her people are on the deck watching Mandy protect the beautiful back yard from squirrels and neighbors on lawn mowers. Adopted 8/5/15.  See more pictures of Tessa on YouTube: https//youtu.be/fYJHLfQyLUE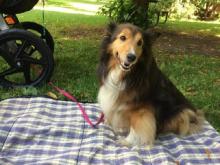 Murphy (Mary Margaret) is home, and they have cheese! She is named for a feisty, little detective in a mystery series and that describes her perfectly. Murphy dealt with many health issues and surgery since coming to MNSR and she is ready to begin the best part of her life with her new family She knew she was home, laid down in her bed and ate the cheese offered by her new mom and dad. Resident cats Bernini and Hiro are ready to teach her the tricks they've learned and maybe share the cheese. We suspect it won't be too long before Murphy is learning some new tricks! After all Murphy has been through, we are happy she has such a caring and loving forever home. Adopted 7/30/15.  Watch Murphy's video: www.youtube.com/watch?v=rFu817T4Wug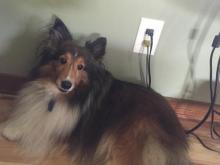 Smokey (was Tuffy) is one lucky Sheltie to have found his forever home with a great couple and their Sheltie Bandit, who are so happy to welcome him to their family. He settled right in to his new home as if he's been there all along. Smokey and Bandit have a beautiful yard to enjoy and a great neighborhood for taking long walks with their people. Smokey doesn't know it yet but he also gets to winter in a warm climate...another reason he's one lucky Sheltie! Adopted 7/27/15.
Pages